Need a durable high heat coating?
Ceramic coating, thermal barrier coating, heat transfer coating and dry film lubrication coating are ideal for items that reach up to 2000 degrees and always recommended on high heat items such as exhaust manifolds, headers and turbo housings.
Looking for high performance ceramic coatings?
Bonehead Performance special ceramic coatings specifically designed for thermal barrier protection, heat transfer and dry film lubrication. Visit our High Performance Coatings page here.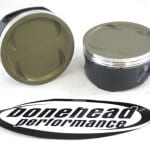 How does ceramic benefit me?
High Temperature Coatings are designed to improve the performance of exhaust systems. These coatings prevent corrosion, increase durability and provide thermal insulation. Ceramic coating is an excellent thermal barrier. By doing so, ceramic coating reduces under-hood heat temperatures which will increase horsepower.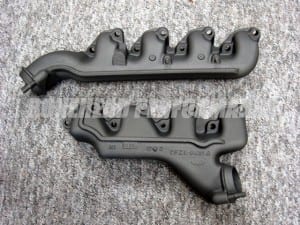 The most advanced exhaust system coating available. It is a very durable ceramic reinforced coating available in a variety of colors. When properly applied it becomes the most effective thermal barrier coating available, increasing performance, while extending component life & has been tested to over 2000 degrees F without lifting, cracking or flaking. Unlike header wraps, it does not hold potentially damaging heat & moisture around the part. Rather, the surface temperatures are actually reduced, extending the life of the part. When cured, a very effective corrosion inhibiting film is formed that protects the part against oxidation and imparts excellent chemical resistance that further extends part life and enhances appearance.
Right now we usually average about a 1-2 week turn around on all ceramic parts but may be sooner or later depending on work load.
If your items are currently chrome plated additional charges will be applied.
The ceramic coating colors we currently offer are:
Matte Black (Flat Black)
Black Velvet (A smooth black with a clean, slight satin Black)
Tungsten Grey (A dark charcoal grey with a soft metallic matte finish)
Silver
Titanium (a dark titanium with a matte finish)
Ceramic Color Description
Example
Sample In Use
Blue Titanium

Cerakote Blue Titanium is a medium blue with silver metallic. Cerakote Blue Titanium Ceramic Coatings will perform at temperatures up to 1600F and set the industry standard in high temperature coatings.

Burnt Bronze

Cerakote Burnt Bronze is a medium bronze with gold metallic. Cerakote Burnt Bronze C Series Ceramic Coatings will perform at temperatures up to 1800F and set the industry standard in high temperature coatings.

Glacier Green (Bright Green sleek satin finish)

Unsurpassed. No other word can adequately describe Cerakote Glacier Green. Formulated to withstand internal exhaust gas temperatures of over 2,000° Fahrenheit and thermal shock from those temperatures directly into water with no adverse effects. Glacier Green retains its bright green, sleek satin finish in the most extreme environments.

Jet Black (Flat Finish)

Jet Black is a great option for those seeking a true flat black.
Temperature Rating: Up to 1800 Degrees












Glacier Black (Satin Finish)

Unsurpassed. No other word can adequately describe the Glacier Black coating. Formulated to withstand temperatures of over 2,000 degrees Fahrenheit and thermal shock from those temperatures directly into water with no adverse effects, Glacier Black retains its deep black, sleek satin finish in the most extreme environments.
Temperature Rating: 2000+ Degrees












Tungsten (Flat Dark Gray Finish)

Dark grey. Tungsten Gray ceramic coatings will perform at temperatures
up to 1800F and set the industry standard in high temperature coatings.
Temperature Rating: 1800 Degrees















Glacier Silver (Satin Finish)

Unsurpassed. No other word can adequately describe the Glacier Silver coating. Formulated to withstand internal exhaust gas temperatures of over 2,000 degrees Fahrenheit and thermal shock from those temperatures directly into water with no adverse effects. Glacier Silver retains its bright silver, sleek satin finish in the most extreme environments.
Temperature Rating: 2000+ Degrees


















Glacier Gold (Rich Gold Finish)

Unsurpassed. No other word can adequately describe the Glacier Gold
coating. Formulated to withstand temperatures of over 2000 degrees
Fahrenheit and thermal shock from those temperatures directly into water with no adverse effects, Glacier Gold retains its rich gold finish in
the most extreme environments.
Temperature Rating: 2000+ Degrees

Glacier Chrome

(SORRY, TEMPORARILY UNAVAILABLE)

(Polished-Like Finish)

Cerakote Glacier Chrome is a Revolutionary CHROME FREE High Temperature Polished Ceramic Coating. Polishes to an ultra high gloss finish.
Temperature Rating: 1300 Degrees























Glacier Titanium (Bright Titanium)

Unsurpassed. No other word can adequately Glacier Titanium coating.
Formulated to withstand internal exhaust gas temperatures of over 2,000
degrees Fahrenheit and thermal shock from those temperatures directly
into water with no adverse effects. Glacier Titanium retains a sleek
satin titanium finish in the most extreme environments.
Temperature Rating: 2000+ Degrees