Extrude Hone's Abrasive Flow Machining


Extrude Hone's Abrasive Flow Machining (AFM) process is recognized worldwide for its ability to increase horsepower, thrust, torque and airflow on all types of internal combustion engines. Whether you're running a two-stroker, a fuel-injected eight banger, or a jet turbine with full afterburners, we'll help you make it go faster, further and cleaner.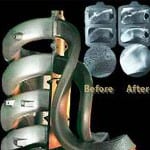 Extrude Hone developed the Abrasive Flow Machining process more than twenty-five years ago to enhance the performance of automotive racing engines. The demand for this process increased rapidly among car and motorcycle owners and soon caught the attention of professional racing teams worldwide. Today it ranks among the most sought after performance improvement available to car and motorcycle enthusiasts. There also is a growing interest among personal watercraft and high-performance truck owners as well.
In addition to meeting the rigid requirements of professional race teams and production automotive manufacturers, Abrasive Flow Machining is an effective process for virtually every type of muscle car and high performance import including Mustangs, Corvettes, Porches, BMWs, Honda and Acura. This custom airflow tailoring process has demonstrated power increases that far exceed any hand finishing and porting process.
Click here for Extrude Hone Price List
So what is Extrude Honing?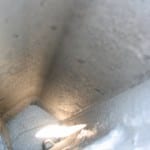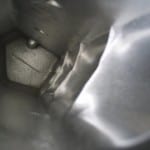 The process is actually called Extrude Hone Porting. What makes Extrude Hone porting different is that instead of gouging the ports out by hand using an array of rotational carbide and hard roll cutting tools, Extrude Hone forces a Silly Putty-type media through the passages under high pressure using hydraulic cylinders. The media that Extrude Hone uses offers a number of unique properties that help its effectiveness as both a deburring process and an airflow enhancement. The "Silly Putty" is impregnated with small abrasive silicon carbide chips or beads that act as a cutting agent in the putty. By forcing the abrasive putty back and forth (sometimes in only one direction) through an intake manifold or cylinder head port, material is removed from the inner walls. This removal process improves airflow through the passage by approx. 15% according to EH. Extrude-honing is the best way to port a lower intake manifold as its elaborate twisting shape makes die grinding impossible.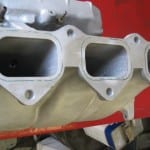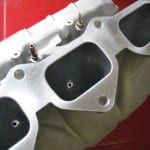 By passing that abrasive putty-like compound through the internal passages of ordinary cast and machined parts, the process will control the shape and smoothness of areas inside the part that normally cannot be reached with ordinary machine tools. By lowering the turbulence within the flow passages, the engine will breathe more easily, and increases both the mass flow rate and entry velocity of the air drawn into the combustion chamber, providing a more complete and leaner fuel/air mixture and consequently, a more efficient and cleaner combustion. The Abrasive Flow Controlled Machining process is used on both fuel and air components, such as, inlet scoops, inlet ducts, intake manifolds, intake plenum chambers, cylinder heads, exhaust manifolds, turbochargers, superchargers, fuel injectors, fuel valves, etc.
The media demonstrates properties of both a liquid and a solid. While "at rest", the media exists in a fluid form. If you held the material in your hand, it would most likely ooze to the floor. How quickly this would happen depends on the particular thickness of the material. Though the putty exists in a fluid form all the way to the ground, for that split second that it contacts the surface, it changes to a solid.
It is this split personality that allows the Extrude Hone process to work so successfully. When the putty is put under pressure using the hydraulic Extrude Hone machines, it flows through the intake passages like a liquid, following the exact same path as the air-flow. The hydraulic pressure from the machines is transferred through the putty to the abrasive carbide material. This allows the putty to remove material from the adjoining areas uniformly like a solid. When the "Silly Putty" runs into an air-flow restriction it acts like a solid and removes the restriction. It's like having a miniature hand porter go in, find where the restrictions are and remove them. This is very useful when porting long runner intake manifolds.
How the Process Works
A plastic, abrasive-laden polymer media is pushed through a part, such as an intake or exhaust manifold, clamped to the processing machine. The media, sands away unwanted material, stress risers and burrs from the internal passage ways creating a smooth, polished surface. For most applications, the flow of the abrasive media is extruded in the same direction as the normal flow of the engine's fuel and exhaust gasses.
Results
The Abrasive Flow Machining process creates obstruction free passage ways that allow air, fuel, and gasses to pass more quickly through the engine components to maximize flow velocity. The result is an engine that produces a faster, cleaner burn and more power output. The process routinely delivers increases that can exceed 30 percent on aluminum intake manifolds and 25 percent on cylinder heads not to mention a cleaner burning, more fuel-efficient engine.
Flexibility
This immensely popular process is now refined to accommodate virtually every commercially available model of intake and exhaust manifold, engine heads, turbo impellers, housings and pumps, as well as two and four-stroke cylinders on automotive, marine, diesel, and motorcycle components. Polishing and smoothing any passage way that air, liquid or fuel flows.
Today, several OEMs including Cadillac and Ford use the Extrude Hone AFM process as an effective method for lowering emissions as well as increasing engine performance on several of their top selling models. Diesel fuel injector manufacturers also rely heavily on this process to improve the performance and fuel efficiency on big rigs, motor homes, and off-road construction equipment.
Overall General Benefits
The result is a dramatic flow increase that is related to flow velocity not flow volume.
Major benefits are increased horsepower and torque, throughout the power band while reducing emissions and improving fuel economy at the same time!
Pricing
Click here for Extrude Hone Price List
A 50% deposit is required prior to starting the extrude hone process on all customer items.
Bonehead Performance can not accept COD shipments. Prices listed DO NOT include return shipping charges. Return shipments will be UPS Ground unless specified otherwise. All parts sent must be "broken down" and clean. No gaskets, bolts, screws, nuts, grease, grime etc. Anything that would interfere with the ports to be extrude honed will be charged a fee to disassemble.
Level I PROCESSING
Includes a thorough processing and inspection of your part to provide a linear surface finish to maximize airflow.
LEVEL II PROCESSING
Includes Level I Powerflow processing service plus gasket matching for Intakes, Heads, etc.
*DELIVERY & TERMS – Please allow 2-3 weeks for processing aluminum and 3-4 weeks for processing cast iron components. All International transactions must be quoted. Prices subject to change without notice. Payments made by Visa, MasterCard or American Express will have the payment amount reserved until shipping, at which time the full amount will be charged.
Limited Warranty
Extrude Hone Powerflow Division Limited Warranty
It is the constant endeavor of the Extrude Hone Powerflow Division to provide our customers the highest quality products available. Extrude Hone Powerflow Division purchases its Powerflow products from various original equipment manufacturers and then reprocesses the original equipment with our exclusive Abrasive Flow Machining (AFM) process. Extrude Hone Powerflow Division does not manufacture these products and therefore cannot warranty the original product with regards to defects in material and workmanship. All warranty claims relating to defects in material and workmanship must be presented to the original equipment manufactured.
Extrude Hone Powerflow Division's Limited Warranty covers only our aftermarket Abrasive Flow Machining (AFM) processing of the original equipment. Extrude Hone Powerflow Division warrants its Abrasive Flow Machining (AFM) processing to be free from defects in workmanship for a period of one (1) year from date of purchase.
Extrude Hone Powerflow Division's limited warranty specifically does not apply to products which have been (a) modified or altered in any way beyond our processing; (b) subjected to adverse conditions such as misuse, neglect, accident, improper installation or adjustment, dirt or other contaminants, water, corrosion or faulty repair; or (c) used in other than those applications recommended by the original equipment manufacturer. Extrude Hone Powerflow Division also does not warrant, and disclaims all liability for products used in racing activities and/or applications other than those specifically recommended by the original equipment manufacturer.
This Limited Warranty is extended to the original consumer only. This Limited Warranty is not assignable or otherwise transferable. There are no warranties which extend beyond those stated herein. Extrude Hone Powerflow Division offers no other warranties express or implied beyond this Limited Warranty.
In the event of an alleged defect in material or workmanship, Extrude Hone Powerflow Divisions' responsibility is strictly limited to repair or replace the defective product. Extrude Hone Corporation® has no other obligation express or implied. Final warranty determination will be in the sole discretion of Extrude Hone Powerflow Division. Extrude Hone Powerflow Division shall not be responsible for: (a) actual or alleged labor, transportation or other incidental charges; or (b) actual or alleged consequential or other damages incurred by use of any product of Extrude Hone Powerflow Division products.
To initiate the warranty process:
Return the alleged defective product to the original place of purchase with dated purchase receipt and completed applicable warranty claim tag. Warranty claims will be rejected if the consumer cannot establish date of purchase. Unless the product was purchased directly from Extrude Hone Powerflow Division, do not send defective products directly to Extrude Hone Powerflow Division. Extrude Hone Powerflow Division assumes no responsibility for unauthorized products sent directly to Extrude Hone Corporation.
This Limited Warranty sets forth specific legal rights. The consumer may have other rights as a result of variations in state laws or provincial laws. This Limited Warranty supersedes all prior warranty statements.
Many of the parts described or listed herein are designed for off-highway use only. Installation of "off-highway" parts may impair your vehicle's emission control system performance. These parts should not be installed on any vehicle used on any street or highway. Any such installation could adversely affect the warranty coverage on such an on-street or highway vehicle.
Extrude Hone Powerflow Division shall not be liable for any and all incidental or consequential damages occasioned by the breach of any written or implied warranty pertaining to this sale in excess of the purchase price of the product sold. If you have any questions regarding a product or installation, please contact our Tech Dept. toll-free at 1-800-613-1065 from 8:00am to 4:00pm EST, Monday through Friday.
Return Policy
ORDER & RETURN MATERIAL POLICY & PROCEDURES
To obtain a Return Material Authorization call 1-800-613-1065.
Before returning any item(s), please call Extrude Hone Powerflow Division at the following number or submit an online request to obtain a Return Material Authorization Number. In the United States: (800) 613-1065.
For your protection, we recommend you use a traceable and insurable form of shipment for all returned items.
Include the original packing slip with your return and wrap the package securely.
Items purchased from an Authorized Extrude Hone Powerflow dealer must be returned to the place of purchase.
All shipping charges associated with orders and returns are the responsibility of the customer. Shipping charges cannot be refunded.
All non-defective material returns must be postmarked within 30 days of the original invoice date.
Items that do not qualify for a refund will be returned to the customer at their expense.
For U.S. returns, please send the package and RMA number to the following address:
Extrude Hone Corporation
Powerflow Division
1 Industry Blvd.
Irwin, PA 15642
Payment Methods
Credit card (Visa, MasterCard, and American Express) are the preferred form of payment and are accepted for orders placed over the Internet and telephone. Extrude Hone does not charge your credit card until your order is shipped.
Sales Tax
Sales tax will be applied for residents of PA. Final invoice may be adjusted to reflect tax rates of specific counties or cities of these states.
Product Availability
Extrude Hone Powerflow Division makes every effort to get your orders to you as soon as possible. In-stock items are generally shipped within 48 to 72 hours. Out of stock items will be placed on backorder and shipped as soon as they are available. If there is an anticipated delay of longer than seven (7) working days, Extrude Hone will contact you and advise you of the delay.
Shipping Rates & Policies
All orders are shipped using UPS Ground and are sent fully insured. In stock items generally ship within 48 hours and out-of-stock items vary depending on production schedules. Please take this into consideration when estimating the arrival time of your package. Shipments cannot be made to P.O. Boxes. Shipping costs are estimates and may vary slightly on the final invoice.
All prices on this site are subject to change without notice. Errors in pricing, information, terms or options are subject to change and correction without notice. If you have any questions regarding a product or any warranties that apply, please contact us before placing your order. Prices vary depending on selected equipment and processing options.