A 50% deposit is required prior to starting the extrude hone process on all customer items.
Prices are for Level 1 processing.
Level I PROCESSING
Includes a thorough processing and inspection of your part to provide a linear surface finish to maximize airflow.
LEVEL II PROCESSING*
Includes hand-blending to specific gasket size prior to Level I processing. Automotive heads, intakes & exhaust manifolds only.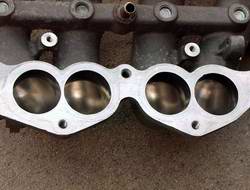 *Level 2 processing add $90 for intakes, heads & exhaust manifolds.
Automotive
Intake Manifolds
Chevy TPI Upper- $195
Chevy TPI Lower- $435
Chevy TPI Tubes (runners) per pair- $270
Chevy TPI Upper, Lower & Runners Combo- $800
Chevy Crossfire Intake- $695
Chevy LT1 Intake- $695
Chrysler HEMI EFI Intake- $745
Ford H.O. Upper (all types)- $435
Ford H.O. & GT-40 Lower (all types)- $435
Ford 5.0L Upper & Lower Combo- $780
Ford Bullitt Intake- $910
Ford SHO Runners- $435
Mazda Rotary Intake- $690
Porsche 924/944 Intake- $745
Porsche 911/930 Intake- $755
Viper Intake- $965
4 Cylinder Aluminum EFI Intake- $545
4 Cylinder Aluminum EFI Intake (2 pc)- $545
5 or 6 Cylinder Aluminum EFI Intake- $755
6 Cylinder Aluminum EFI Intake (2 pc)- $910
8 Cylinder Aluminum EFI Intake- $765
10 Cylinder Aluminum EFI Intake- $965
12 Cylinder Aluminum EFI Intake- $1215
Aluminum 4 Cylinder Intake (Carburated)- $425
Aluminum 6 Cylinder Intake (Carburated)- $495
Aluminum 8 Cylinder Intake (Carburated)-$535
Cast Iron Intake (any)- $865
Turbo Housing (Aluminum)- $220
Turbo Housing (steel)- $250
Cylinder Heads
4 Cylinder Aluminum Head- $715
4 Cylinder Cast Iron Head- $855
5 or 6 Cylinder Aluminum Heads- $935
6 Cylinder Cast Iron Heads- $1145
8 Cylinder Aluminum Heads- $1075
8 Cylinder Cast Iron Heads- $1375
10 Cylinder Aluminum Heads- $1320
10 Cylinder Cast Iron Heads- $1760
12 Cylinder Aluminum Heads- $1595
Porsche 911/930 Heads- $1075
Diesel Heads- contact us
Exhaust Manifolds
4 cylinder Exhaust Manifold (Iron)- $495
5 or 6 cylinder Exhaust Manifold (Iron)- $690
V6 cylinder Exhaust Manifold (Iron)- $690
8 cylinder Exhaust Manifold (Iron)- $745
10 cylinder Exhaust Manifold (Iron)- $880
12 cylinder Exhaust Manifold (Iron)- $965